via Top Trends Guide
by Altea & Shreya
Hello budding fashionistas, after a brief (but excruciatingly painful) hiatus from writing together, it's our pleasure to announce that we're back. During this hiatus, the direction of the fashion world has changed considerably, as summer trends are beginning to emerge. Let's face it, friends, everyone and their mother wears jeans. And there's nothing wrong with jeans specifically, it's just that they've gotten a bit passe lately. Not that we're suggesting you desperately head to the nearest window and start flinging your jeans out like some desperate housewife, but it could certainly be the proper time for a much-needed bottoms refresh. And of course, we're doing the same thing. So here are our top 3 picks on the best, and most stylish, alternatives to jeans for Seattle's spring 2021.

Firstly, we have a classic tennis skirt. We might be a little tired of seeing it all the time since it first headed into the public's usage almost a year ago, but it's still a staple for anyone in 2021 who considers themself well-dressed. As long as you pair it with a unique top ensemble, you can look like a tennis-playing heiress for under $20, and the weather's perfect for beginning to reveal those long-hidden limbs you've kept under lock and key since the weather turned in November. Some good pieces to style this with could be anything from a crewneck sweater/collared top combo, a cardigan with a v-neck cami, or a lacy Y2K style top for a callback to the color-customized days of summer 2020. It probably comes as no surprise that our brand/store of choice for tennis skirts is the mass favorite: Brandy Melville. Although the brand is one size, mostly geared towards petite women, they perfectly embody this effortless, classy garment.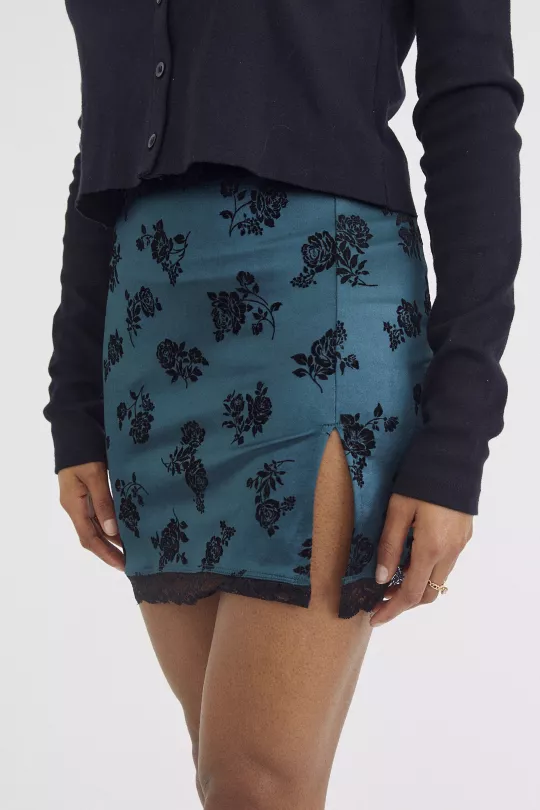 Something that's coming more into the public eye recently are silk/satin skirts. What with the way that summer 2021's fashion is headed more towards tropical prints and bright colors, a silk skirt can be spot-on if done right (preferably featuring neons and colors that pop out.) Our preference would be a midi/knee-length skirt with a side slit, for your legs to breathe of course. The beauty of the silk/satin skirt, even though some might find them daunting, is that they are incredibly versatile. They can be paired with cropped, loose-fit, graphic tees to channel your inner model off-duty. Or you could go for a more dainty and elegant look with a spaghetti strap v-neck cami, and if you're chilly layering a dark wash denim jacket. The possibilities are endless, and one staple silk/satin midi skirt can be the perfect companion for countless tops. Our brand of choice for these skirts is Urban Outfitters, even though they don't have a large selection of mid skirts, their mini skirts are filled with wonderful patterns, sure to earn a favorite spot in your wardrobe. While many of their pieces may be very overpriced, their clothes are still a classic in the fashion world.

Finally, for those of you who tend to get cold even when it's above the (in my opinion) perfect weather of 70 degrees, we offer pants of the non-denim variety, namely: striped, gingham, floral even. While in America people typically tend to choose a statement top with plain jeans, people in Europe tend to favor a plain top with statement pants. While having the perfect statement top is certainly a must-have variety is always incredibly important in fashion. That's why for some extra inspiration we can turn to our neighbors across the Atlantic and don statement pants for a day. Plus side, everyone around you will consider you incredibly chic and classy: they were a favorite of Audrey Hepburn for a reason. Pants like striped, gingham, etc, are usually best paired with a basic black or white top, to best draw attention down to the pants. Our pick for the most affordable with the best selection would be Cider. Their selection is basically endless, featuring plaid pants, cow print pants, heart-patterned pants, tie-dye pants, bleached pants, checkered pants, cherry-patterned pants, and more. And the prices are freakishly good considering jeans at many bigger stores, like ZARA, are upwards of $60. And if you're just feeling a checkered obsession coming, check out the brand's Classy With a Twist Collection.

Now that we've thoroughly prepared you and your closet for a jean-free spring, we hope you take our advice and check out our recs. Have a happy and stylish spring, and we'll see you soon! And remember, always check the reviews. 😉